Trump blasts China with strategy to increase trade tariffs
2 min read
China and the United States suddenly fell apart this week, they were moving towards an agreement to end a months-long trade war.
Now as negotiators scramble to resurrect the deal, revelations are emerging that indicate both sides appeared to think they had the other over a barrel. As a result, they pushed for more, setting the stage for a rapid escalation in tensions which opened session after session of hard-fought negotiations.
Over the weekend, Donald Trump assured to raise tariffs on $200 billion of Chinese goods, sending markets plummeting and wrong-footing Beijing, which did not issue an immediate response and muzzled state media from reporting on the threat.
On Wednesday, the Chinese government threatened to hit back, as its top trade negotiator, Vice Premier Liu He heads to Washington for what was supposed to be among the last rounds of discussions with US trade envoy Robert Lighthizer and Treasury Secretary Steven Mnuchin.
Chinese Commerce Ministry said in a statement on Wednesday, "The escalation of trade friction is not in the interests of the people of the two countries and the people of the world."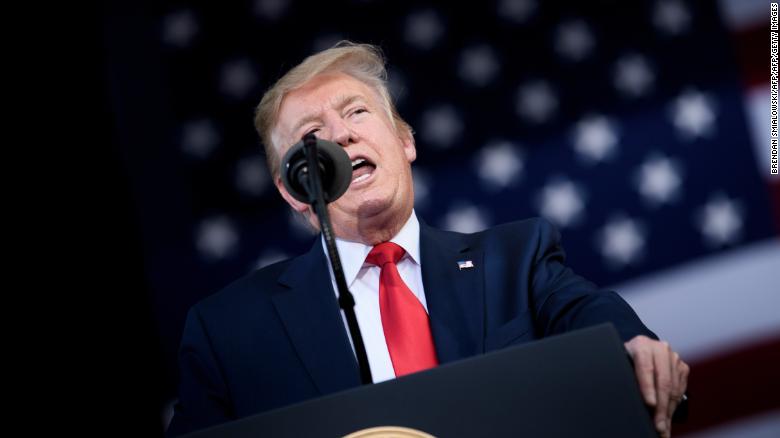 Donald Trump speaks during a "Make America Great Again" rally in Florida on May 8, 2019. Getty Images
On Twitter, Trump accused Beijing of attempting to end the clock on his administration in the assumption it will be dealing with a Democratic administration after 2020. Speaking at a rally in Florida later Wednesday, Trump said the new tariffs were because China "broke the deal."
"You see the tariffs we're doing?" the President asked his supporters. "Because they broke the deal!"
"The vice premier is flying in tomorrow, good man, but they broke the deal. They can't do that," he added. "If we don't make the deal, nothing wrong with taking in over 100 billion a year. We never did that before."
When Liu, Lighthizer and Mnuchin sit down, however, they will not be engaging in handshakes and backslapping, but instead unfriendly negotiations pushed most of the way back to square one.
An agreement may still result from those talks, but it will be a far harder fought one than anyone expected only a month ago.