Stop domestic violence celebrities talk about Mohsin Abbas Haider accusation of domestic abuse
4 min read
Late Saturday night, Mohsin Abbas Haider's wife, Fatema Sohail took to Facebook to allege the actor of domestic violence.
Fatema said, "On 26th Nov 2018, I caught my husband cheating. When I opposed him, rather than being ashamed he started beating me. I was pregnant at that time."
Fatema said she had to go to a doctor to ensure the baby is okay. She further said that she decided to try and make the relationship work for the sake of the child, although she pointed out there may have been some 'societal pressure' involved as well.
"On 17th July, I went to Mohsin's home and asked him to take our son's responsibility where he started beating me again! He denied to do anything for his son! Now I've had enough… I had enough of verbal & physical abuse. I had enough of divorce threats."
Haider replied to the accusations in a presser on Sunday, disagreeing that he never physically beaten Fatema.
The case rapidly caught attention on social media, with famous celebrities calling for justice.
Here's what they have to say:
Osman Khalid Butt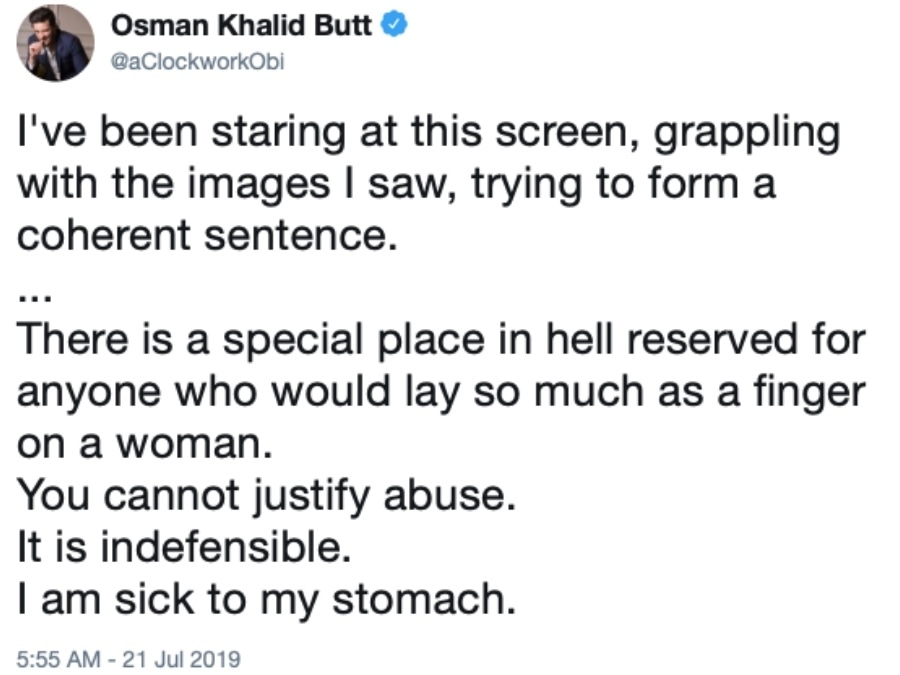 Mahira Khan calls for children to be taught about consent and abuse so that violence is not normalised
**Here's what Asim Azhar had to say*
Mansha Pasha reiterates tat domestic violence is never justified
Ushna Shah and Hania Amir who have both worked with Mohsin came out in support of Fatema
Since then, Dua Malik, Gohar Rasheed, Humaima Malick and Hamza Ali Abbasi have also come out to corroborate parts of Fatema's account.