Boxer Maxim Dadashev died Tuesday morning at the age of 28 during his fight against Subriel Matias on Friday due to injuries suffered.
Buddy McGirt, Dadashev's strength and conditioning coach, Donatas Janusevicius, and his trainer, informed of Dadashev's death.
McGirt gave Dadashev an impassioned plea to stop the fight, saying, "Please! You're getting hit too much" before stopping the fight.
This is a mark of a great trainer, one that knows his warrior at war 🥊 a trainer has to love his fighter enough to make a crucial call sometimes saving him from his very self. Great call Buddy @buddymcgirtboxing prayers up for this young warrior #speedyrecovery #toughsport 🙏🏾 pic.twitter.com/cKljvTKOgt

— The Magic Man 🎩 (@AntonioTarver) July 20, 2019
McGirt threw in the towel after the 11th round of the bout, and Dadashev later underwent surgery to relieve a subdural hematoma (brain bleeding), which caused in him being placed in a medically prompted coma.
ESPN's Brett Okamoto and Andrew Feldman, as well as boxing promoter Eddie Hearn, commented on Dadashev's death:
Awful, awful news. https://t.co/PHzvbH132x

— Brett Okamoto (@bokamotoESPN) July 23, 2019
We love watching combat sports, but keeping everything in perspective is far more important. These athletes are professionals in incredibly dangerous careers and stories like this should remind everyone that it's never just "a fight". RIP Max.https://t.co/geDRMQug6m

— Andrew Feldman (@AFeldmanESPN) July 23, 2019
So terribly sad to hear the news of the passing of Maxim Dadashev. Rest in peace 😔

— Eddie Hearn (@EddieHearn) July 23, 2019
ESPN's Steve Kim told, following the fight, Dadashev left the ring on a stretcher and was transported to UM Prince George's Hospital Center in Cheverly, Maryland.
"Maxim was a terrific young man," Top Rank chairman Bob Arum said in a press release statement. "We are all saddened and affected by his untimely death."
Upon learning of Dadashev's passing Tuesday, many members of the boxing community also took to Twitter to express their condolences.
This fella Maxim Dadashev was a fighter until his last breath, it's a brutal cruel sport at times, he died aged 28 after suffering severe brain injuries during his defeat to Subriel Matias on Friday. May god rest his soul #RIPChamp pic.twitter.com/YY0ZajAceJ

— Anthony Fowler (@afowler06) July 23, 2019
With a Saddened Heart I want to send my deepest condolences to the family of Maxim Dadashev who passed away after receiving head trauma in his last fight. Ppl boxing is a tuff sport, we put our lives on the line every single time we step in the ring. RIP my boxing brother 🙏🧡 pic.twitter.com/gLhqzGd5Xw

— Amanda Serrano 🇵🇷 (@Serranosisters) July 23, 2019
Wow my heart heavy right now. I remember walking to the gas station with Maxim after he weighed in for one of his fights. Pray for his family to have strength in these tuff times because he was a good dude. RIP

— Terence Crawford (@terencecrawford) July 23, 2019
Dadashev was aided out of the ring and reportedly bent and vomited before reaching his dressing room.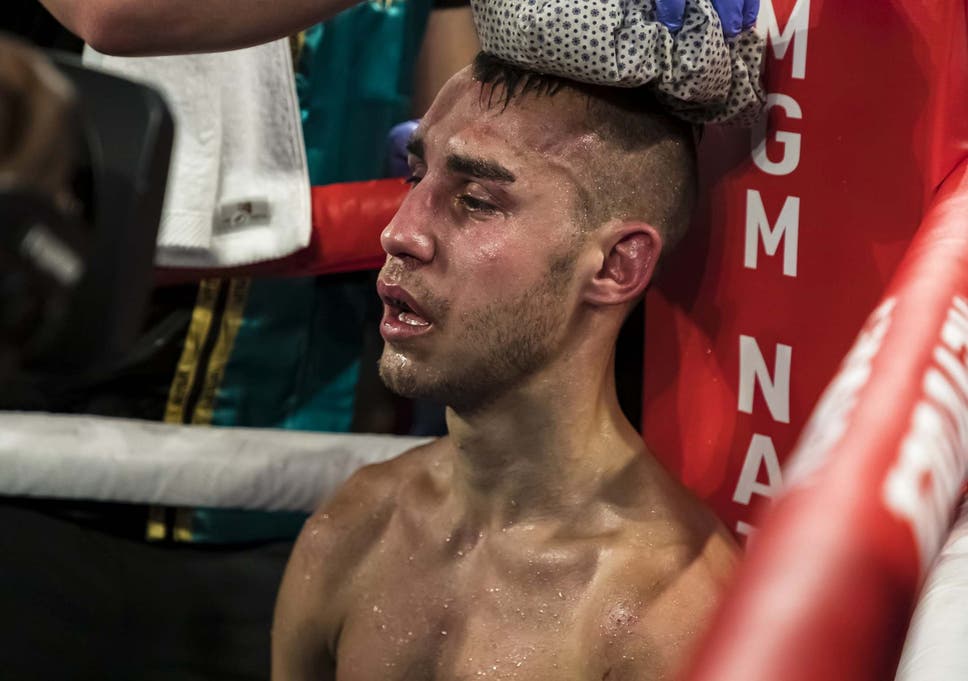 Dadashev's manager, Egis Klimas, was informed by neurosurgeon Dr. Mary In-Ping Huang Cobb on Saturday morning that Dadashev was bleeding on the right side of his brain and was "showing signs of severe brain damage," told Kim.
In addition to the surgery, Dadashev was given treatment to reduce brain swelling.
Janusevicius said Saturday that Cobb told him the bleeding and swelling had stopped but that Dadashev was in critical condition.
Dadashev, who was a native of St. Petersburg, Russia, owned a professional record of 13-0 prior to the loss to Matias.